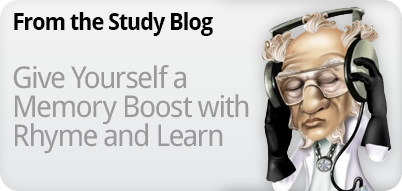 We talk a lot on this blog about using your learning strengths to get information to stick in that noggin of yours. Rhymenlearn.com is a super cool resource for those of you who struggle to remember math equations, science formulas, and human anatomy.
This is especially beneficial to you auditory learners out there who like to hear and/or say things out loud in order for them to stick.
Check out a few of these great rhymes:
"Flotosynthesis" (a rap about photosynthesis)
Or our personal favorite:
"Get Ur Neuron" Oh, yeah. That's right.
The only way to learn isn't by listening to a teacher droning on and on in a classroom.
Tell your teacher about Rhymenlearn.com and who knows? You might even be able to get some extra credit. Take a little tour around the site to find more entertaining—and amazingly helpful—raps about math and science. You may even be inspired to write some learning rhymes of your own.
For more on auditory learners, check out another Premier Tutors blog post.
We love to share the interesting stuff we find online. Keep checking back for reviews and suggestions regarding the wonderfully free stuff you can find online.
And, as always, don't forget to hug your tutor today!
The Premier Tutors—Boston Tutors who make a difference.