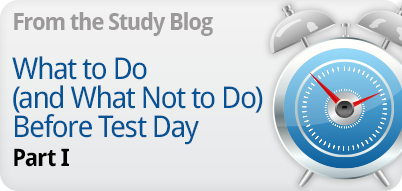 So it's test day, and you're beginning to freak out, even about things that didn't even occur to you yesterday. Before you're in a full-blown panic, take a deep breath, and follow these three steps before you sit down to take the test:
Up and at 'em!
Get up early. Don't knock those 8 hours of sleep, you need all the rest you can get, while still getting up an hour or so before you'd usually wake up, so you can get used to being a real human before you're expected to be intelligent on a test. Don't forget that test venues can get kind of chilly too, so dress for the test. Take a light jacket or sweater so you'll be fine whether it's hot or cold.
Eat or be beat!
You need to eat a decent breakfast if you're going to do well on your test. Nothing too fancy, just what you'd normally eat in the morning. Your brain needs a fuel injection to function properly so don't skip breakfast.
Double check your backpack!
Check your supplies—better to check them too many times than not enough. Be sure you've got your ID, pens and pencils, a calculator if you'll need it, spare batteries even, a watch, some water (don't get dehydrated!), and maybe a snack if you're allowed refreshments. And finally, take a book or a music player if you're expecting any breaks. It's not a great idea to try and cram during the exam, so relax and think about something else during the few minutes you get. Knowing that you have everything you'll need will help calm your nerves on test day, and it's an easy one.
Feeling more prepared for your next test? Stay tuned to The Premier Tutors' Study Blog to know what to do (and what not to do) during the actual test! *drumroll*